Yes, I know... It's always about Pinterest! But I'm telling you - I find sooooo many good ideas on there! I also think that it gets my creative juices flowing as well - seeing all of the cute and creative ideas.
So, today I spent the majority of the day finishing up some projects that have just been sitting in limbo. I must have gotten a creative bug in me because I have visited Hobby Lobby twice in the last two days! I still have my word study activities left to do, but they can wait. Without further ado, I give you my.... Projects!

What the Teacher Wants! Blog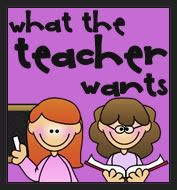 You may have seen these... Birthday Balloons! There are many sites that have these now, and I don't know who originally created them... So, here's credit to everyone!

My Birthday Balloons!
Mine were made using my cricut - I didn't feel like hand-cutting them all out. I printed the saying on cardstock, then cut the balloon shapes around the saying using my cricut. I also used the twisty-straws as we aren't

allowed to give candy anymore. I found the red bucket at Hobby Lobby, as well as, the 3D stickers. I used a full bag (about 6 cups) of small elbow noodles in the bucket to hold the sticks.
Pencil Buckets
My next project was the pencil buckets. I created them using vinyl and my cricut. I haven't ever used the vinyl, so I watched a Youtube video on how to do it. It was pretty easy. The hardest part for me was the little pieces (I just had to use that pencil text!). I've always hated my pencil buckets because my handwriting with a sharpie on a curved surface is just no good! I also had loads of fun working with the welding option on my cricut. Oh, by the way, I only use Sure Cuts A Lot with my cricut. This has saved me tons of money and I can cut most anything out using any font or any image.
Sparkle Writing Bulletin Board
My next project was a bulleting board for my word study/writing station in my classroom. I was wanting to make one of those ribbon boards, but I just couldn't find the ribbon that I wanted. As I was walking down the clearance aisle, I found a $3.99 shadow box frame - the glass must have fallen out and broke, but I didn't need that. I also bought the rhinestones in the scrapbooking section with glue dots already on the backs. I painted the backing green and added the rhinestones and walah! I'm really impressed with myself! I then decided to cut a little more and made the saying - it staples into the backing! This was exactly what I was looking for and the right size - I love it when that happens!
CHAMPS Board
My last project that needed to be finished was my CHAMPS board. Our district is implementing CHAMPS district-wide, so I had to have something - but no one said it couldn't be cute! I used my cricut to cut out the letters and puffy circles. Then I laminated the whole board and the flip cards. I'm going to put them
on binder rings and hang them on the board. I didn't use the CHAMPS icons, and I used my classroom terminology for the cards. This way, I will be consistent with the CHAMPS philosophy. I've attached my outline and flip cards!
My next post will probably be pictures of my classroom. It is mostly finished, just a few touches here and there. It is definitely getting easier to set-up (according to my mother)! I also plan to finish my word study station activities this week, and hope to post them soon. So, until then, have a great week!