I have spent the last day agonizing over my blog and trying to get a blog button made and uploaded, as well as the blog signature... I made it! It took a night's sleep, but they are now successfully there! YAHOO!!! Thank you to Kristen at Ladybug's Teacher Files and Amanda at KevinandAmanda.com!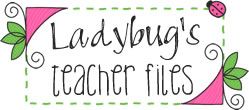 I wanted to do a post on my recent story purchases, but silly me put everything away before I could take a picture! This week's shopping trips (yes, TRIP-S!!!) have included the following:
Target - $spot had some things people have been posting... It seems that our Targets in the Houston area seem to wait until closer to August to put everything out - or I just miss the good stuff as it is already purchased. I did find the mini dry-erase erasers and sentence strip dry-erase boards.
Hobby Lobby - their summer stuff is all on clearance and I found a tall buck for my birthday sticks for $1.20!!!
Michael's - They just sent out their teacher email about teacher's getting 15% off everyday (the email didn't say dates, just "everyday"). I know they don't give the discount all year, so it must be until school starts or something. But, I went to the store the day before I got the email (figures), but I had 3 good coupons! I bought some stickers to put on the birthday bucket...
Staples - I went to 2 staples stores in one day searching for the 50-cent bulldog clips. The 2nd store didn't have them either, but the manager allowed me to purchase the larger ones for 50-cents each. She was very nice. I also stocked up on the correction tapes (they were $2/pack which has 2/pack).
Office Depot - they had crayons on sale for 25-cents with a limit of 5 boxes. I was disappointed that Walmart didn't have them at this price this year as I usually stock up with their supplies, but that's another post! Anyways, I batted my eyes and asked nicely of the manager if I could purchase an additional 5 boxes at the sale price. He said yes, so now I have 10 boxes of crayons. I may hit up Walmart with their price matching and another Office Depot as I want to make a crayon shadow box (as seen on Pinterest).
Office Max - I was wanting their pencil pouches for 25-cents each for my homework folders. There was a limit of 3, and I tried the same technique on the manager here as I did at Office Depot... Didn't quite work out. In the end, he ONLY let me get 6 total, but said I couldn't come back and get more. He said that he needs to keep them for others to buy. Grrr....
IKEA - I made a second trip out to IKEA for the white magazine boxes, and alas, they had them in stock! So, I bought 50 of them!!! LOL!
I really need some page protectors and zipper pouches to finish my homework folders. I'm hoping they go on sale soon! I know that Mardel is having their Teacher Sale tomorrow, and I'm going there with a friend. It's crazy the things we teachers will do for a sale!!! Happy Shopping!